SARTORIUS MICRO SERIES BALANCE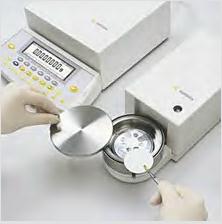 Sartorius premium microbalances meet the highest requirements when it's a matter of obtaining fast and exceptionally accurate results. These balances offer maximum support when used as inspection,
measuring and test equipment within a quality system. The following performance features make your quality assurance procedures much easier:
SQmin function: displays the allowable minimum sample weight according to the United States Pharmacopeia (can be activated by Sartorius Service); Fully automatic calibration and adjustment
feature, isoCAL; ISO|GLP-compliant recording
Input capability for alphanumeric sample IDs
FEATURES:
Motorized, frameless glass draft shield, with a special inside coating which eliminates interfering factors – such as those caused by electrostatically charged objects.
Easy to remove draft shield. smooth, easy-to-clean surfaces on the weighing chamber base plate.
The generously sized opening of the draft shield moves to any position desired – you
can choose to operate the draft shield at the press of an ergonomic key using the ball
of your hand, a foot switch or an external computer.
Fast results with stabilization times of only 10 seconds.
Easy to read backlit, high-contrast graphical display. Text prompts in plain English (and
your choice of other languages) guide you quickly and confidently in configuring the
balance.
14 built-in application programs as standard features, such as EUREKA program for air buoyancy correction, Differential weighing program for up to 999 samples, Statistical evaluation. All balance-generated data can be logged via the standard RS-232C interface port.
Models ME5-F and SE2-F for weighing filters of up to 90 mm in diameter. The draft shield specifically constructed for this application is made completely of metal, thereby minimizing the interfering effects of static electricity.